Welcome to Sunshine Cove, the new style of urban living on the Sunshine Coast that is certainly changing the face and future of Maroochydore forever. As you are about to discover, Sunshine Cove is far more than an incomparable new masterplanned residential estate. You are about to witness… the creation of a community.
Live here
The perfect lifestyle.
Living at Sunshine Cove is based upon you and your needs.
Learn More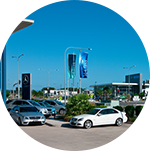 Invest in your future.
At Sunshine Cove your business future would look a whole lot brighter.
Learn More