Friday, 18 May, 2018
---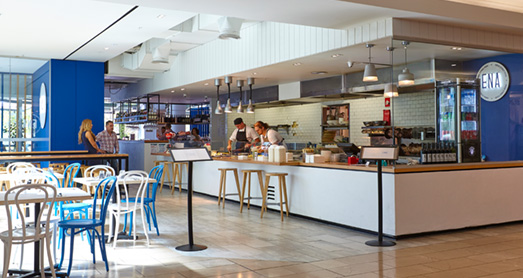 Sunshine Coast, 16 May 2018:
ENA Greek street food is the latest addition to be confirmed for Sunshine Plaza's Riverwalk dining precinct, due to open in July this year. This will be the fifth ENA restaurant to open in Australia and the first in Queensland.
When interviewed, Centre Manager Michael Manwaring had this to say: "The addition of an authentic Greek restaurant to our Riverwalk brings a completely new offer to the dining precinct, providing our customers with more great choice when it comes to waterfront dining at the centre. The opening of Betty's Burgers and ENA Greek Street Food are two of several changes occurring along the Riverwalk that will provide customers with a refreshed dining experience."
ENA Operations & Property Manager Eleanor Barratt also commented: "ENA, meaning number one in Greek, will bring a modern twist to food inspired by the streets and beaches of Greece. We utilise traditional Greek cooking principles, with our meats cooked on a slow rotisserie over a coal fire pit, which is used in Greek homes and shops at the agora. The food will be an evolution of simple, fresh and flavoursome ingredients used to serve up innovative, rustic offerings."
"We are very excited to be opening our first Queensland restaurant at Sunshine Plaza and can't wait to open the doors and share our wonderful food with customers.
For more information visit enagreekstreetfood.com.au
Tags: business, CBD, coastal lifestyle, development, family, future, liveability, Maroochydore, Sunshine Plaza, waterfront
---
Posted in Press Clippings