Thursday, 4 June, 2015
---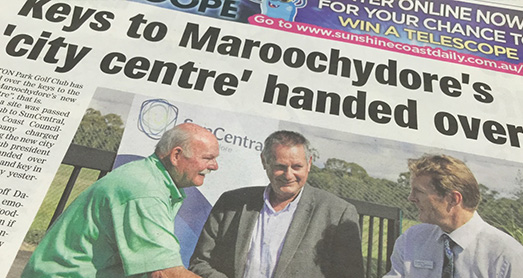 Horton Park Golf Club has handed over the keys to the city – Maroochydore's new "city centre", that is.
The 53ha site was passed from the club to SunCentral, a Sunshine Coast Council-owned company charged with developing the new city centre, when club president Geoff Davies handed over the front gate lock and key in an official ceremony yesterday.
Club president Geoff Davies said he was not as emotional about the final goodbye as he might have been if he had not had the opportunity to play on the club's new course at Bli Bli the day before.
"I think because I had that opportunity to play on the new course and had a drink with the construction workers and what have you, I realised what a wonderful new facility we're moving to and I suppose that takes a bit of the emotion out of it," he said.
SunCentral chief executive John Knaggs said it was a "privilege" to take possession of the site on behalf of the community and the council, and thanked Horton Park Golf Club.
"It's important today to recognise the magnificent effort of the club to relocate and construct the new course," he said.
Mr Knaggs said work was expected to begin clearing the site late next month.
Acting Mayor Chris Thompson said the building of "much needed infrastructure" in Maroochydore would open up the new city centre and the Sunshine Coast to the world.
"SunCentral Maroochydore will be the premier city centre for the region and become home to major civic and entertainment facilities, commercial and retail business, new residences and public open space," he said.
"This project is about creating a truly international city that will provide important community facilities, attract new investment to our region and generate new jobs for local residents."
Mr Davies described the club's new course as "magnificent" and said "it plays better than it looks".
He said there was a waiting list for the club's seven-day membership, and six-day memberships were full or nearly full, but social memberships were still available at $5 for five years.
"We've got a wonderful new restaurant, which local people from Bli Bli, I hope, will have a meal at. It's a very, very nice place to visit," he said.
Sunshine Coast Daily 30/5/15
Tags: Apartment Living, business, CBD, development, maroochy boulevard, Maroochydore, Sunshine Cove, Sunshine Plaza, urban development, waterfront
---
Posted in Press Clippings